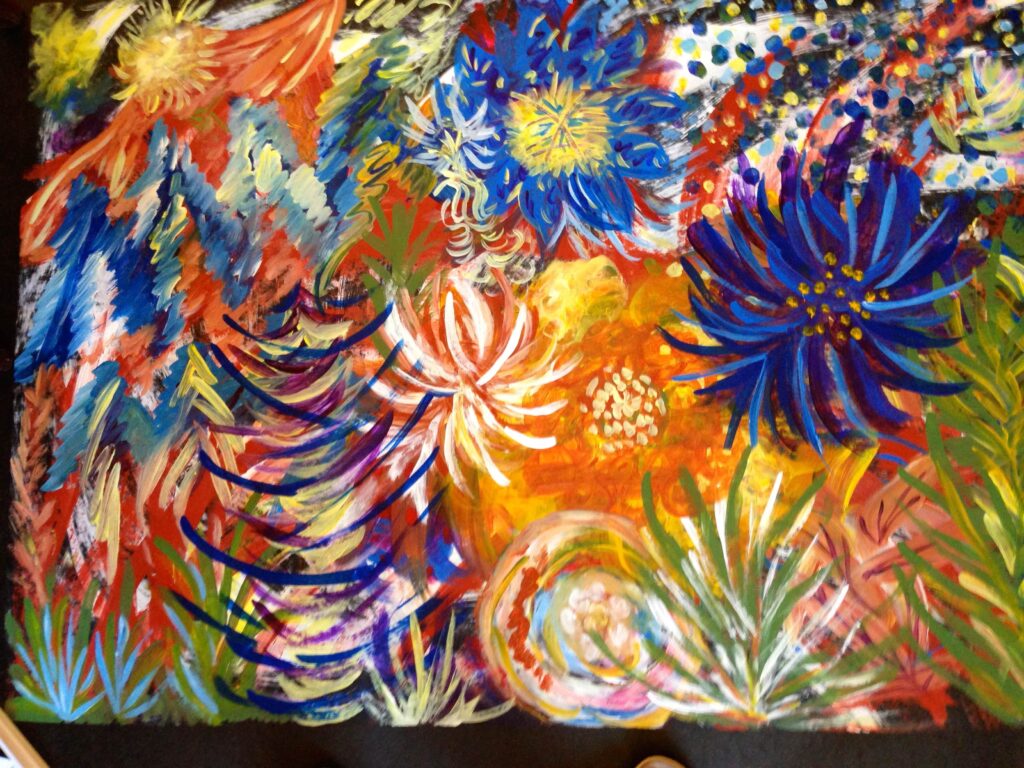 ~ Songs for your Journey ~
Songs and music feed my Soul Self, comfort me, and create feelings of joy, peace, love and transcendence. Sometimes I listen to songs that create feelings of irritation and anger to help work these emotions through my body, especially if I dance to the music. I've not included that music here as I'm sure you have personal favorites.
I discovered that spiritual words combined with music lands in my heart more fully than only words alone. The few suggestions I provide here are some of my favorites. There are many more that show up all the time. I'm sure you already have songs that sing to you.
I've put the music in categories including an instrumental and classical category. However, music sings to our Soul Self which is beyond categories.
Most of the songs and music can be found on YouTube. Eventually I will provide links to the music and create YouTube play lists. This will take some time so please be patient.
Enjoy!
Love and Blessings,
Sally
Earth Children, Walela, Walela
The Gift You Are, John Denver, The Flower that Shattered the Stone
How Could Anyone, Libby Roderick, If You See a Dream
Listen to the Children, Karen Drucker, Hold Onto Love
Love My Life, Robbie Williams, The Heavy Entertainment Show
On Children, Sweet Honey and the Rock, Breaths
See Me Beautiful, Red Grammer, Teaching Peace
A Million Dreams, Zif Zaifman, the Greatest Show on Earth
I Believe, Katherine Jenkins and Andrea Bocelli
I Want to Live, John Denver, The Essential John Denver
One the Wings of a Dream, John Denver, The Very Best of John Denver
One Dream, Sarah McLachlan (single)
Sunrise, Deva Premal and Miten, Satsang- A Meditation in Song and Silence
We Shall Be Known, MaMuse, Prayers for Freedom
Again and Again, Peter Kater and Snatam Kaur, Heart of the Universe
Be Still and Know, Shaina Noll, You Can Relax Now
Blessings to the World, Karen Drucker, Songs of the Spirit II
Blessed Be, Shawna Carol, Goddess Chant
Blessed We Are, Peia, Four Great Winds
Divine Surrendering, Doe Paoro
Face of God, Karen Drucker, Songs of the Spirit II
Holy Holy Holy, Karen Drucker, Songs of the Spirit II
I Am Everything, Denise Hagan, For Those Who Hear
I Am So Blessed, Karen Drucker, Songs of the Spirit II
I Have Faith, Karen Drucker, Songs of the Spirit III
Laying it All Down, Nathan Pacheco, My Prayer
Morning Prayer: I Will Surrender, Karen Drucker, Songs of the Spirit IV
Sweet Divine Awakenings, Denise Hagan, For Those Who Hear
This is the Day, Jaya Lakshmi and Ananda, Kirtronica
The Wings that Fly Us Home, John Denver, Spirit
Daughter of the Midnight Sun, Cecilia, Voice of the Feminine Spirit
Praise Her, Shawna Carol, Goddess Chant
Return to the Goddess, Desert Wind, Return to the Goddess-In Chants and Song
Spiderwoman, Desert Wind, Kabbalah Shekhinah
Unite the Tribe, Cecilia, Voice of the Feminine Spirit
Woman's Spirit, Karen Drucker, Songs of the Spirit I
A Thousand Suns, GuruGanesha Band, A Thousand Suns
All is Well, Shaina Noll, You Can Relax Now
All is Well, Avi Kaplan and Joy Williams, Floating on a Dream
Amazing Grace, Pentatonix
Amazing Space, Denise Hagen, Amazing Space
Be Still and Know, Shaina Noll, You Can Relax Now
Can You Feel the Love Tonight, Pentatonix
Circle of Light, Walela, Walela
Crazy, Libby Roderick, If You See a Dream
Faith, Paul Luftenegger, Faith
God Is, Faith Rivera, Suncatcher: Morning Music for the Hip ad the Sacred
I Am Everything, Denis Hagen, For Those Who Hear
I Choose Love, Shawn Gallaway, I Choose Love
I Have Faith, Karen Drucker, Songs of the Spirit III
In the Light of Love, Deva Premal and Miten, The Yoga Sacred Song and Chant
Lead with Your Heart, The Tenors, Lead with Your Heart
Love, Serve and Remember, John Astin, Remembrance
My Heart, Paul Luftenegger, Love Expanding
Espiritu De Vida (Spirit of Life), Carolyn McDade and Friends, Sorrow and Healing
Healing, Carolyn McDade and Friends, Sorrow and Healing
The Healing Song, Karen Drucker, Songs of the Spirit I
Healed, Whole and Healthy, Karen Drucker, Songs of the Spirit II
Mother's Song, Shawna Carol, Goddess Chant
Only Love, Fearless Soul, (feat. Rachael Schroeder) (single)
You Can Relax Now, Shaina Noll, You Can Relax Now
Your Prayer is My Prayer, Karen Drucker, Songs of the Spirit II
Absence of Fear, Jewel, Spirit
Free My Soul, Fearless Soul, Different
Lay Down Your Burden Paul Winter (feat. Susan Osborn), Common Ground
Wandering Soul, John Denver, (rare recording on YouTube)
Ave Maria, Ashana, All is Forgiven
Ave Maria, Sarah Brightman, Dreamchaser
Holy Mother, Kathy Zavada, In Love Divine
Let it Be, the Beatles, Let it Be
Mother's Song, Kathy Zavada, Mother's Song
Oh Mother God, Karen Drucker, Songs of the Spirit I
Return to the Goddess, Desert Wind, Return to the Goddess-In Chants and Song
She Carries Me, Jennifer Berezan, She Carries Me
This Ancient Love, Carolyn McDade, this Ancient Love
Instrumental and Classical Music
Across the Oceans (album) Tim Janis
Angel, George Winston, Plains
Along the Shores of the Abenaki (album) Tim Janis
Circle of Joy, Lisa Lynne, The Celtic Circle
Apurimac III (album) Cusco
Clair de Lune, Debussy, Peaceful Music
Earth Song, Amadeus (single)
Etude Op. 10 No. 3 Tristesse, Chopin, The Very Best of Chopin
Gloria, Amadeus, Joy
Goodnight to the Mountains, Paul Winter Consort, Crestone
Grandmother's Lament, Peter Kater and Carlos Nakai, How the West Was Lost, Volume Two
Hero's Dream, Jim Brickman, Jim Brickman's Greatest Hits
Moonlight Sonata No. 14 C-Sharp Minor, Ludwig van Beethoven, Classics for the Heart
Ninth Symphony, Ludwig van Beethoven, (pick your favorite orchestra)
Our Land Our Life, Peter Kater and Carlos Nakai, How the West Was Lost, Volume Two
The Planets, Gustave Holst, Boston Symphony Orchestra
Rainsong, George Winston, Plains
Requiem: IV Sanctus, John Rutter: Requiem – Magnificat
Requiem: III Pie Jesu, John Rutter: Requiem – Magnificat
The Swan of Tuonela, Jean Sibelius, London Philharmonic Orchestra
Sunset On the Great Sand Dunes, Paul Winter Consort, Crestone
Timeless, Jim Brickman, Escape
Waterfall, Jim Brickman, Escape
All This Joy, John Denver, Higher Ground
Colors of Praise, Faith Rivera, Wonder
Elysium, Elysia, The Celtic Circle
Joy in Our Hearts, Karen Drucker, Joy in Our Hearts
Kayama, Adiemus and Karl Jenkins, Adiemus Live
Rise Up, Shawna Carol, Goddess Chant
Elysium, Denise Hagan, Amazing Space
Glorious, One Voice Choir, (Single)
My Soul Sings Out, Susan J Paul, We Will Remember
Sing to Me the Dream, Holly Near, And Still We Sing: The Outspoken Collection (Disc 1)
Singing for Our Lives, Holly Near, And We Still Sing: The Outspoken Collection (Disc 1)
Singing a Song, Peter Mayer, Heaven Below
The Song is Love, Peter, Paul and Mary, Album 1700
Song of Your Heart, Peter Kater and Snatam Kaur, Heart of the Universe
Song of My Soul, Don Eaton & Cathy Bolton, Songs from the Conversations with God Spiritual Retreats
We Are One in Harmony, Susanne, Earth Water Air Fire
Church of the Earth, Peter Mayer, Heaven Below
Earth Mother, Desert Wind, Return to the Goddess in Chants and Song
Earth My Body, Sasha Butterfly, Earth Water Air Fire
The Flower that Shattered the Stone, Shaina Noll, Bread for the Journey
For the Beauty of the Earth, Paul Winter, Missa Gaia/Earth Mass
Mother I Feel You, Windsong, Earth Water Air Fire
Mother Earth, Commander (feat. Lisa Fischer) (single)
Rivers, Carolyn McDade, As We So Love
The River is Flowing, Sasha Butterfly, Earth Water Air Fire
Yemaya Assessu, Miten (Und Deva Premal), Satsang – A Meditation in Song and Silence
The Face, RyanDan, RyanDan
Gentle with Myself, Karen Drucker, Songs of the Spirit III
I Am Loved, Karen Drucker, Songs of the Spirit III
Let the Way of the Heart, Karnamrita Dasi, Earth Water Air Fire
Song in My Soul, Karen Drucker, Songs of the Spirit III
This Little Light of Mine, Sweet Honey and the Rock, Freedom Song
Spiritual Sisters and Friends
Bridge Over Trouble Waters, Mary J Blige and Andrea Bocelli
Heart of the Universe, Peter Kater and Snatam Kaur, Heart of the Universe
The Gathering of Spirits, Carrie Newcomer, The Gathering of Spirits
One Voice, The Wailin Jennys, 40 Days
We are Circling, Buffy Sainte-Marie, Power in the Blood
Woman's Spirit, Karen Drucker, Songs of the Spirit I
Your Prayer is My Prayer, Karen Drucker, Songs of the Spirit III