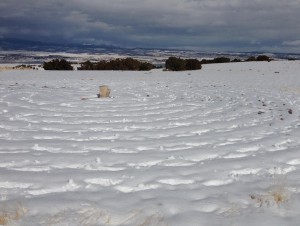 Even at our high altitude of about 7,000 feet, it does not snow much in northern New Mexico. And when it does snow, it usually melts quickly under our bright sun. The day after a storm in which it snowed 8 to 10 inches, I wandered out to look at my labyrinth to see if I could walk it. It was buried in snow with none of the rocks delineating the complex unicursal path visible. My first reaction was, OK not today, I'll wait till the snow melts. My second reaction was, this would be an interesting experiment in trusting I can find the path without the rocks to guide me. (The picture shows the labyrinth after I walked it.)
As I stood at the entrance gazing at the snow and setting my intention to let go and just walk, I noticed very slight indentations in the snow that looked like they were only in the center of the path. So I started walking very slowly. I had to be thoroughly present as the indentations were very faint. It required me to release any doubts that surfaced about whether they were really pointing the way.
The path of this eleven-fold labyrinth modeled after the one in Chartres Cathedral, France folds in and out on itself and eventually leads to the center. The process of weaving in and out is a tool to aid in going inward to access one's own wisdom/guidance. In the beginning, I kept hesitating and second-guessing the slight indentations and temporarily allowing myself to get confused.   Then I just let go and trusted. I felt such peace and love that I was present in this moment to walk, as the Navaho people would say, to walk in beauty.
When I arrived in the center it came to me I should write about this. We so often believe that the process of trusting our inner guidance is difficult, that our sacred guides are faint or non-existent.   How often I have heard people say that the ego speaks first. Yet when I let go, I realize that everything is always perfect, each experience is exactly as it should be for re-learning our Oneness with God. With this understanding, I stopped worrying whether or not it was the ego speaking first and started to trust that the inner guidance from my Holy Self is always present and always directing what is best for my learning. It is immensely freeing. This walking the labyrinth in the snow just reinforced trust in my Holy Self to always guide perfectly.
Once in the center, this place of deep peace and Love, this place of my direct relationship with God, I looked around and of course the path back out was clearly marked by my footprints in the snow. In A Course of Love: The Dialogues, Jesus talks about how we have gone to the top of the mountain with him to understand what we created by believing in separation and then to learn how to stop our projections through non-judgment and forgiveness. For, everything seen through the perception of separation is a projection including our ideas of relationship with God. Now it is time for us to come back to level ground with this new awareness and weave our spiritual knowing into our every day lives. I realize that walking out of the labyrinth following my own footsteps, my own guidance, is a metaphor for weaving my spiritual journey into my everyday life, taking it back out into the world, and thus embodying Christ consciousness.
The next day while I was not at home, a friend came and walked the labyrinth. The snow had not melted much in the labyrinth and he found my footprints very helpful for leading the way. At one point he was unsure whether or not I had strayed from the correct path but he continued to follow my footsteps and was pleased to arrive at the center. His comment was that I must be very familiar with the path. And of course I am, both physically as well as spiritually. If we trust and let go, all of us are very familiar with our inner spiritual guidance, our direct relationship with God even if it seems we have strayed. And because all of us are the same in our Oneness with God at the same time as having a unique relationship with God, we can learn by following each other's footsteps. Each one of us has a direct relationship with God in Union expressed through the many, extending only Love.