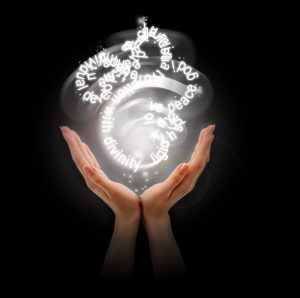 I'm revitalizing the Embrace Child Spirit newsletter at least that's what spirit gently keeps guiding me to do. I keep saying yes OK then occasionally send out a blog post or an announcement, but a newsletter, what would that look like?
Write more says Spirit. So I've started consistently journaling again with the intent to write Jesus' message as it comes through me, sometimes it does, sometimes it doesn't. In fact I've always suspected the verbal messages I think I receive from Jesus as not being very eloquent and sounding suspiciously like me. HA HA I asked: "Why do I trust the dreams, the visions, the animal spiritual guides, the sudden downloads of knowing, and the songs you send, but not the dialogue in words." This is what Jesus replied with some edits of personal references no one would understand.
I can only use the words you would use yourself. This is why the content is the same but the wording is different from one person to the next. By wanting my words to be more eloquent you have slipped into believing that I am outside you. In fact this is part of the Trust you are re-learning. You and I are the same and truly I come from within your Sacred Self, the part of you that knows it's not separate. Trust in your Sacred Self equates to Trust in me and therefore you and I as One.
So I use the words coming from your heart. When you question that I'm using your words you are distrusting our Oneness. You are worthy. You are a child of God. We are both creations of God, extensions of her Love. You can be nothing less. I can be nothing less. Therefore we can have this conversation continually. What happens is when you ask for help with a specific problem, you are so wrapped up in your past behavior that you distrust any words that come through. You begin to stop listening as your heart freezes with fear. Yet even in those times, you've been open enough to hear in other ways: music, dreams, animal spiritual guides, and downloads of knowing. (Jesus then refers to a specific ongoing struggle with a relationship and says I stop listening and believe Jesus has stopped talking because I'm afraid he will ask me to do something I do not want to do.)
I would never tell you do something you do not want to do, cause you'll not do it. I can feel you questioning this as if you feel I've done that in the past. Have I? Because you and I are one, anything you end up doing has to be a joint decision. I take whatever experience you are having and work with you to the most benevolent outcome for all involved. (This is in reference to a new spiritual tool I mention later in this newsletter.) To repeat what you know deep down, every experience is perfect for your awakening. Your Holy Self has created it in oneness with me for your highest good. And what can be your highest good but a return to Christ Consciousness in form.
So take up your pen and let's have these written dialogues with no censoring because you think something can't be my words. Just write as you've done here. Do you feel that because you've not been a literary genius that means we are not conversing as One? Do not worry that the ego slips in every once and a while. It is OK because you have yet to abide fully as the Christ you are. Yet you do know the Truth and the words that point to the Truth. So let's release once and for all the idea that if I was truly dialoguing with you the words would sound different. I Am in you, a part of you, one with you.
Let's become comfortable with this dialogue process and do it every day, writing it down when you can. I know you like to talk with me at times during your daily hike. I've been unable to communicate this way for a while because you also developed a distrust of this form of communication. Open again to listening with your heart, which is what hiking does for you. And let's continue this way also, writing, putting aside your distrust and just doing it. I'm in joy at this opening of your heart. Its been closed to this form of communication because you fear not being worthy of my support and of moving forward, as manifested by the pain in your hip and back.
Yes, we will work through this together as One. It's your free will that brings you to me and the desire to create together in order to return to your Holy Self. And because you asked, I will assist you in every way possible with joy in our joining. Welcome home sister.
And So it Is
Blessed Be and Amen
So I'm writing again: trusting this dialogue with Jesus, writing more blogs to post to Facebook and the Embrace Child Spirit website, and now reinventing my newsletter. I hope you'll stay with me. I have not a clue where this will lead, I'm just doing it even though the audience is small or signed on for a different type of newsletter. I'm just joining with you in Oneness, that's the only intent.