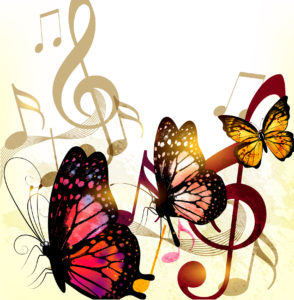 My life flows on in endless song above the earth's lamentation.  I hear the real though far off hymn that hails a new creation.  Through all the tumult and the strife I hear the music ringing.  It sounds an echo in my soul.  How can I keep from singing!
 From the Unitarian Universalist hymnal, 
Singing the Living Tradition
, hymn 108.
I'm not a professional musician, although I wanted to be a concert pianist when I was a child. Yet, music has influenced and shaped my life.  Music gave me one of my first experiences of joy and oneness. Music brings me back to the peace that passes all understanding over and over again. It can take me out of my personal self and transport me into the divine.
Singing has always been a part of my life.  I started singing in a choir when I was four years old and I have been singing ever since in choruses, a cappella and madrigal groups, and choirs.  I've led and performed song at summer camp and sung at friends' weddings. Singing and music speaks to my heart and is often the only thing that can center me in peace during times of struggle. The song, My Life Goes On in Endless Song, describes perfectly how I feel about my life. Especially given the current "tumult and strife."
When I am centered in peace I find myself riding the waves of the music of the heart above the ups and downs of this world, above the current darkness that's been brought to the surface to heal.  I've always heard the music of my heart. Sometimes I've ignored it. Sometimes it's been very faint and hard to hear.  Sometimes my Higher Self has patiently sent me song after song till I'm ready to listen.  Sometimes the song is full of discord and seemingly wrong notes. An example of this is when we were selling our house in the Boston area in order to move to New Mexico. I was just beginning to trust my Higher Self to orchestrate everything perfectly. So we had some false bids and I was angry when they fell through.  I could not understand why selling the house was so difficult when I knew Spirit was guiding me to New Mexico.  And of course when the perfect buyer appeared, all went smoothly and in perfect timing.  So worrying did nothing to help, it just disrupted my peace.
When I look back on my life, it has been perfectly orchestrated for my awakening.  Yet at times I still fall back into the habit of mistrust only to return again to the music of my soul. The "tumult and strife" of the current political environment can easily suck us into viewing Trump and his government as the bad guys. It's easy to believe that all this darkness is real rather then a choice to experience the dream of separation. We must see past our perceptions to the true Spirit within men and women playing around in the denseness of the third dimension. The only way dis-ease of separation dissolves is listening to the heart where our Higher Self speaks to us.  And it's often a song that brings me into the heart, so I can hear the voice of my Higher Self.
"I hear the real though far off hymn that hails a new creation." As many of us are becoming divinely human, the hymn creating the new earth more and more does not sound so far off. And I can say this even though it appears that patriarchy is especially strong at the moment.  Yet I know deep within that it is in the last stage of existence. Like an animal that's been cornered, it is viciously fighting for survival.  More than ever we are being called to our authentic self, to live in harmony with Self.  Those who are following Trump have moved away from their authentic Self.  When that happens they go into conflict. We had become complacent with the status quo. We are experiencing chaos in order to interrupt the usual flow. This allows us to truly see the dysfunction of patriarchy and then heal it once and for all.  All of this is possible because the Divine Feminine voice has been released. We need the loving mystical medicine of re-birth and creation to free the negative masculine energy. Then it can become the Divine Masculine in support of the heart, thus joining in harmony with the Divine Feminine and healing into wholeness.
So even though I feel weary at times because it feels we've attempted to do this over many, many parallel lives, there's always been a song in my heart for the Mother God. I have felt her presence and grace during the darkest times, as I do now.  Therefore, "how can I keep from singing?"
So this song in my heart is the voice of the Divine Feminine penetrating all.  It is soft and clear as well as fierce and all encompassing.  The Divine Feminine in each one of us, both men and women, is the heart, the right side of the brain.  Under the 30,000 years of patriarchy the right side of the brain, the Divine Feminine, and the heart have been suppressed in favor of the reason and logic of the left side of the brain. I equate the ego to the relentless mind loops that occur on the left side of the brain, suppressing any connection or input from the creative heart-opening right side of the brain. When this happens we go into fear. We lose our authentic self and our power. And in consequence we actually become powerless, trying to control what can't be controlled.
This is what the people of the current government seem unable to understand. They are terrified of letting go to their feminine energy, because women, the feminine is seen as weak and ineffectual and to let go to would be giving into weakness. So they cut off part of themselves, blame women for not being able to save them and end up hating themselves and women.  And the more they fear and hate, the more they lash out and try to control through fear and intimidation. It becomes a vicious left-brain ego loop.
When we demonize, blame, or hate Trump and his supporters we join them in the ego loop of separation. We join them in perpetuating fear. Instead, I choose to be grateful for what is happening. Trump is actually a divine catalyst ushering in a new age. I am grateful to his over Soul for taking on this role. So, I must find a way to live through the last gasp of patriarchy without dreading the process and succumbing to fear. I ask the Mother God daily to help me see the innocence in Trump and his followers. Recognizing the innocence in Trump is recognizing my own innocence. When we embrace the fear it guides us to our deepest essence, which is love. Through all the tumult and the strife I hear the music ringing.   It sounds an echo in my soul.  How can I keep from singing!