Don't Fix Me I'm Not Broken, Changing Our Minds about Ourselves and Our Children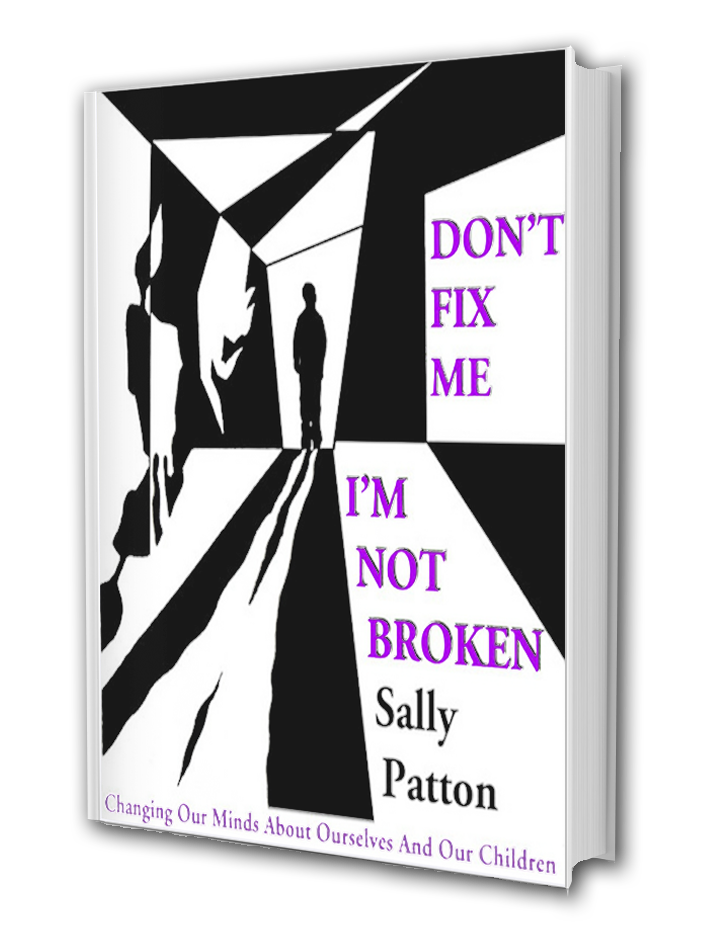 Most of us want to be able to parent from a place of peace, no matter what is happening around us, no matter what struggles our children are having.Don't Fix Me I'm Not Broken, Changing Our Minds about Ourselves and Our Children takes us on a spiritual parenting journey to learn what it means to parent from love instead of fear.
The daily chores and activities of parenting any child can pull us out of peace. However, it is often our child who is struggling or defiant who challenges us the most. Seeing our child as different, more special, more difficult, more challenging is reinforced by a world focused on seeing some people as more damaged or less normal than others, and then trying to fix them. I came to realize it is not about controlling or fixing our children; its about changing our minds about our children. And when we do this, we find a universal truth for healing all relationships. The catalyst for my journey may have been my son, but what I discovered was a path of healing for all aspects of my life.
Click here to order from Amazon.com.
---
What other authors are saying about the book:
Sally Patton brings an enlightened perspective on how to parent from a balanced place of love, and beautifully articulates the idea of changing one's Mind about their children rather than trying to fix them.  The importance of moving past the labeling of our children and experiencing the essence of the Spirit is not ignored in this book. Don't Fix Me I'm Not Broken is a God-send to anyone who wishess to join with their children rather than separate, love rather than fear, and accept their Divinity rather than deny their perfection.
Gary Renard, Best-Selling Author of The Disappearance of the Universe and Cindy Lora-Renard, Spiritual Psyhchologist
"Don't Fix Me, I'm Not Broken is an extraordinarily helpful book.  It is unique in its approach and aim.  It asks us to open ourselves to the deeper meaning behind our children's seeming condition.  It invites us to be willing to renounce our human story about this condition and to ask the Divine to reveal the lessons of love that await our welcome. 'I see you, not the behavior, not the condition or the label; I see the truth of you.'"
Nouk Sanchez and Tomas Viera, authors of Take Me to Truth; Undoing the Ego (From the Foreword)
"An insightful book that helps parents to come from love rather than fear when facing a child's disability, disorder or disease.  Sally Patton proposes a wonderful perspective; our unhappiness does not solve our children's problems, it is our clarity and comfort that has the most beneficial impact."
Barry Neil Kaufman, Best Selling Author of Happiness is a Choice and Co-Founder of TheOption Institute and Autism Treatment Center of America
Sally Patton asks us to look past the diagnostic labels we give to children, and see the radiant spark of the divine.  Her book serves as a soothing balm to comfort parents who feel overwhelmed by the challenges of raising an atypical child.  I recommend it highly!
Thomas Armstrong, author of Nuerodiversity: Discovering the Extraordinary Gifts of Autism, ADHD, Dyslexia, and Other Brain Differences and The Myth of the ADD Child.
Sally Patton's Don't Fix Me, I'm Not Broken builds upon the tenets from A Course in Miracles to inspire parents toward a new standard of understanding:  to perceive their relationships with sons and daughters through a spiritual prism—one that is invaluable for its wisdom about acceptance and its lessons in unconditional love.
William Stillman, author of Autism and the God Connection and The Soul of Autism
Don't Fix Me, I'm Not Broken is a book that goes right to the center of the heart.  This book helps cultivate an awareness of unconditional love and acceptance—a power that can heal the world."
Jared Rosen Co-Author of The Flip and Inner Security and Infinite Wealth and Founder of DreamSculpt Media