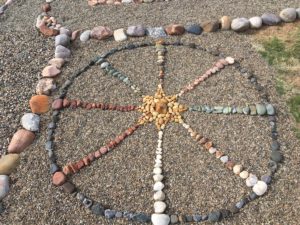 "He drew a circle that shut me out, Heretic, rebel, a thing to flout.
But love and I had the wit to win.
We drew a circle that took him in."
Edwin Markham from the poem Outwitted
The recent violence in Charlottesville, VA reminded me of this poem by Edwin Markham. The language is dated, however the message is powerful. I usually do not watch the news, yet I felt compelled to watch some of the videos of the white supremacists and listening to their language of hate. This is another incident of the violence and hatred that has been unleashed since Trump's election.
Much of the response to acts of intolerance centers on the language of resistance. I will resist and stand against the hatred. However I feel we are being called to much more. We are being called to enfold those who are choosing to believe that others are the cause of their pain and who lash out in anger, hatred, and violence. Enfolding does not mean condoning acts of hatred and violence and there needs to be consequences to violent acts. Enfolding means recognizing God's all encompassing love with no opposite and that every single person is of God, here to only extend Gods' love. The white supremacists are trying to draw a circle to keep everyone unlike them out. We are being called to draw a circle of love that includes everyone, including those who are filled with hate. "I resist everything you are saying cause it is hate filled" is different than saying "I stand in the truth of love and I will hold that love, which is your true Self, till you're ready to join me."
Peaceful resistance was all we had in the past and it was very effective, evidenced by Gandhi and Martin Luther King. Now, despite the increased hatred, we are ready to build on peaceful resistance and create peaceful and loving enfolding of those who've lost their way. I would like to change the word resist to enfold.
I know there will people who'll say I'm being unrealistic. The protest at Standing Rock is a beautiful example of what consistently using language of love and unity can do to dissolve hate and change people's response one person, one step at a time. The wise leaders know once they start seeing those who would take their land and pollute their water as enemies, they've lost. We are creating a new world, one powerful step of love at a time.
What we resist grows stronger. It's what creates the separated ego mind. An example of changing our language to show how to create circles of love is a wonderful Unitarian Universalist organization called Standing on the Side of Love. I used their stickers and buttons while marching in the women's march in January. Yes, I stand for love. I stand in the truth that we are all one; that we are each in truth divine, even those who are currently playing around in darkness. However, I would like to eliminate the word "side" in the organization's title to say "Standing with Love." Side subtly separates.
This may feel minor to change words. Yet words often convey our deepest beliefs. We know what it's like to resist, even peaceful resistance. It draws a line in the sand that causes conflict, saying you are you and I am me and we are separate. Standing in your Truth as God's loving creation does not draw a line to separate. It allows you to see past the hatred to the divine loving Self no matter how deep it's buried in hatred. Only Love dissolves the hate, enfolding the bullies and saying yes you have value as divine beings in a human body. Many of us are being called to join organizations resisting the hate coming to the surface. If we join from anger no matter how justified it feels, we'll be contributing to the hate. If we join with peace and love in our hearts, we begin to dissolve the hate.
We've lived thousands of years of conflict and suffering. And now, everything unlike love is coming to the surface to be transformed into the light because we've progressed to a point that we can do this. This can only happen if we've done our own internal work of embracing, forgiving and loving all parts of our selves, even the parts we are shamed of or dislike. In loving ourselves we demonstrate that love for others. First I draw a circle of love around myself, then I can draw the infinite circle of love around everyone else. I enfold you in my love. Namaste